Current World Wave Kitesurfing Champion, Kirsty Jones has just become the patron for The Seahorse Trust. Part of her role is to assist them with their efforts to protect and preserve the endangered seahorses and their natural marine habitat which is under threat.
A charitable organisation set up in 1999, The Seahorse Trust oversees various marine conservation projects including the research into this unique fish species, with the aim of preserving and conserving fragile eco-systems around the world.  Since discovering two types of seahorse (spiny and short snout) at Studland Bay in Dorset, the site has proven to be internationally important.  The bay has a very large concentration of seahorses; over 40 were recorded in 2008 alone, nowhere else in the British Isles is there this concentration of seahorses. The Rio Formosa in Portugal is the only other international site which has recorded population numbers to match Studland Bay.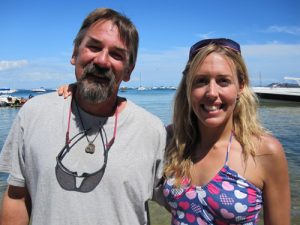 Kirsty with trust director Neil at Studland
Studland Bay, as well as being a unique site for seahorses, is made up of a large seagrass meadow that has a number of other species resident to it and is a major nursery site for commercial species such as bass and mullet.  Unfortunately the bay is under major threat of damage due to the large number of pleasure craft that use it, particularly during the summer months when the sea grass meadow is destroyed by anchor damage and anchor chain erosion.
Founder of the Seahorse Trust Neil Garrick Maidment comments; "We are very excited to have Kirsty on board as patron of the Seahorse Trust, she is a passionate person about the marine environment and the amazing creatures that live in it. Seahorses are a great species to tell the story about what is happening to the world, especially the marine environment and if we don't conserve them we will fail at saving the last great wilderness on the planet and one of the most enigmatic species on the planet; the world would be a poorer place without them. Kirsty is a great person to be an ambassador for the trust and as she travels the world in her chosen sport she will spread the word on preserving this incredible animal and we are very grateful to her for giving up her time for us and the Seahorses".
He explains more about the vital importance of the seagrass meadows; "This small area in Studland Bay is a crucial undersea habitat and one that takes a long time to establish but a very short time to destroy and once it has gone it is very difficult for it to recover or be re-established.  The erosion of the seagrass meadow will have a negative impact on the area, not only will it destabilise the seabed leading to scouring of the seabed and consequently coastal erosion but it will also be a loss of this important nursery area for commercial species, leading to further losses in fish stocks.  Seagrass meadows are also vital for locking up CO2 helping to alleviate global warming – which makes seagrass beds as valuable as rain forests.  We are busy gathering as much data as we can to allow us to put together with our conservation partners a management plan for protection of this important habitat for the marine life at Studland Bay."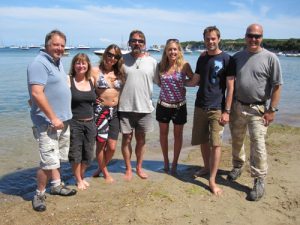 Kirsty with the survey team at Studland
Professional kitesurfer Kirsty Jones says; "I was honoured to be asked to be a patron for the Seahorse Trust and to help spread the word about the seahorses indi