STOP THE CURIO TRADE CAMPAIGN
The curio trade, those 'innocent' mementos from seaside visits, cause death and destruction to millions of specimens every year, and because of this a breakdown of the habitats they live in.
This trade is on an industrial scale around the world, forcing so many species and habitats nearer to extinction with many never being able to come back from that brink. It is entirely possible seahorses could be one of those victims.
We would like to thank Tom Walker who kindly designed our new logo for the campaign. We held a competition on our Facebook page and Tom was one of many who sent in designs.  We are pleased to say his hard-hitting logo – which encompasses a seahorse and shell to represent the trade was the winner.
Tom is a designer by profession and you can see many of his projects on his website which is at http://tom-walker.net/ . If you need any designs, Tom has some great ideas.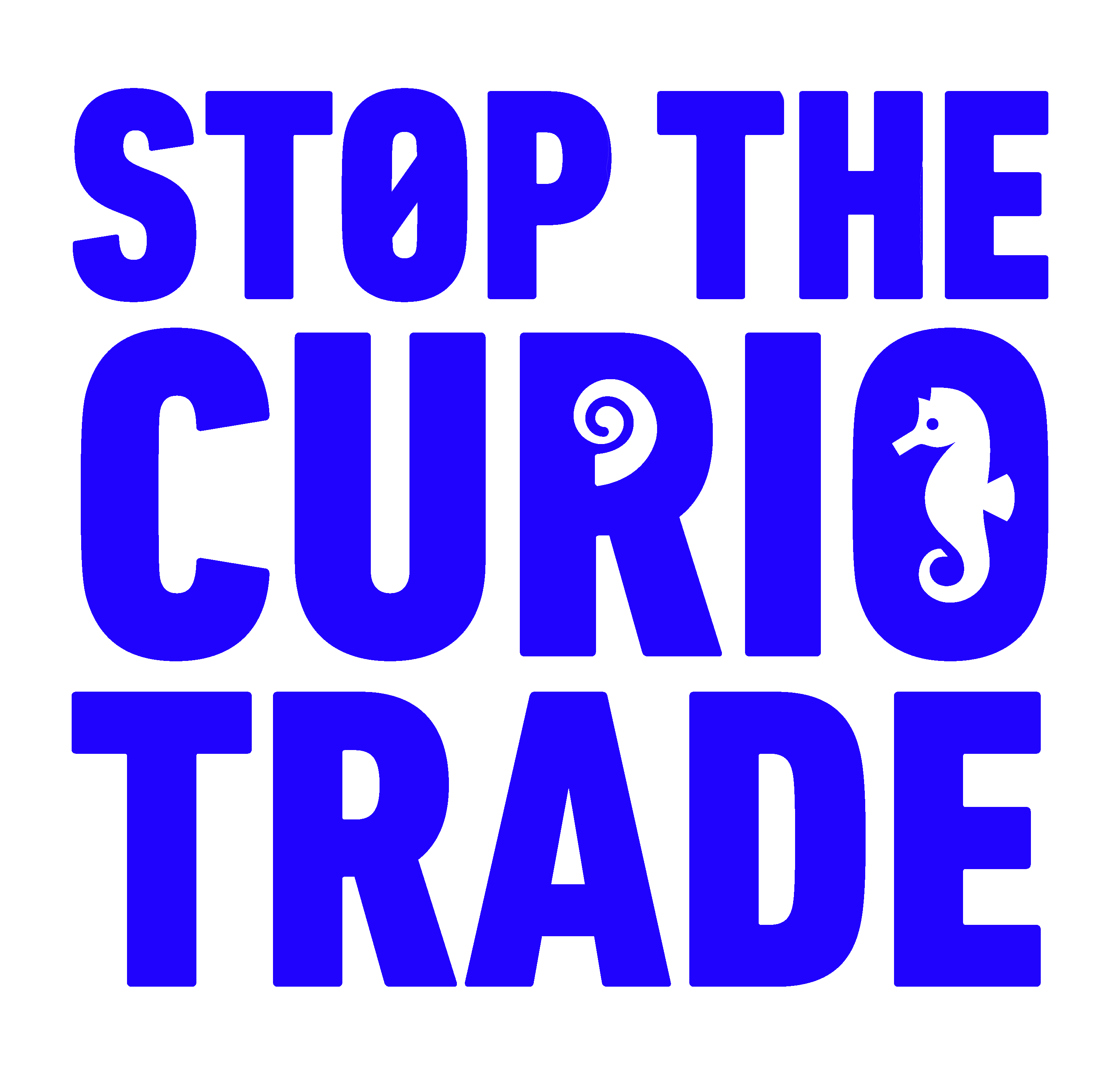 IF YOU SEE CURIOS FOR SALE, PLEASE LET US KNOW BY FILLING OUT OUR REPORTING FORM.
CLICK ON THE BUTTON BELOW TO GET THE FORM, SAVE IT, AND THEN FILL IT OUT AND PLEASE SEND IT BACK TO US.
WE NEED TO STOP THIS AWFUL TRADE NOW BEFORE IT IS TOO LATE.
Seahorse Man tells the story of marine biologist Kealan and his quest to investigate and understand the Traditional Medicine Trade. Throughout his journey he discovers things are considerably worse than the official figures say and drastic action will need to be taken before seahorses go extinct in the next 30 plus years.
CLICK ON THE IMAGE TO THE RIGHT TO GO TO NETFLIX
Illegal trading of Seahorses and Marine species.
THIS IS A DEVASTATING TRADE THAT KILLS SO MANY SPECIES
Our friends at Save our Seahorses (SOS) in Ireland carried out undercover work, and discovered that the official figures do not show the true scale of the seahorse trade.  SOS estimates that every year in excess of 150 million seahorses are caught for the curio and medicine trades, which means that seahorses could be extinct in less than 20 years.
This has to STOP!!!!
It is a devastating, cruel trade that has far-reaching consequences worldwide. It is often seen as an innocent memento of a seaside trip, a trinket to have in the bathroom or office, a unique curio. In reality it is an indiscriminate trade that kills and maims so many species, leaving behind a desert-like environment.
In recent years we successfully lobbied eBay to have seahorses banned from sale on the internet shopping platform, not just in the UK but throughout Europe, America and Australia. Different rules apply on each continent.
In August 2020, Etsy also agreed to place seahorses on their threatened species list and forbid their sale, whether in curio form or for the traditional medicine trade.  Both of these are pushing seahorses nearer extinction every year.
These were amazing successes, due to our volunteers who have all contributed to the reporting of illegal items. We now have a permanent volunteer who monitors the online shopping platforms to check for any illegal seahorse sales. Please contact us at Illegal trade if you see any seahorses for sale.
As time allows we will also target other online shopping sites, not just for seahorses but for other species such as shells, sharks, porcupine fish, and corals.
Make a Difference
THERE ARE SO MANY WAYS YOU CAN GET INVOLVED AND SUPPORT OUR CHARITY
You can help us to make a difference. The project will cost about £48,000 per annum and we have been so lucky that the Postcode Local Trust have given us a grant to get the first year under way (alongside other donations). The important thing about this campaign is to keep it going, so please help. Pledge to make this trade a thing of the past here in the UK.  When we have succeeded in the UK, we will work in partnership with others around the world.
Please visit our funding site at GoFundMe and make a donation, big or small. It all helps – and if you can Gift Aid your kind donation (at no cost to you), even better!
You can help us in this campaign by visiting shops (peacefully and unobtrusively) selling seahorse curios, and report them to us through our illegal trade e-mail address ILLEGAL trade. Everyone can get involved. Just visit these shops and report them to us and we will pass on the details to the relevant organisations, BUT please do so peacefully.
We also aim to compile a database of this appalling trade and lobby the government to crack down on it. You will be able to lobby the government when we have gathered enough data, and we will let you know who to contact in due course.
As the campaign progresses and by working with partners such as Wild Aid (UK) who specialize in environmental education, and with our friends at Save Our Seahorses, Birders Against Wildlife Crime, and Sea Shepherd, we intend to make this a major national and international campaign and most importantly – to make a difference.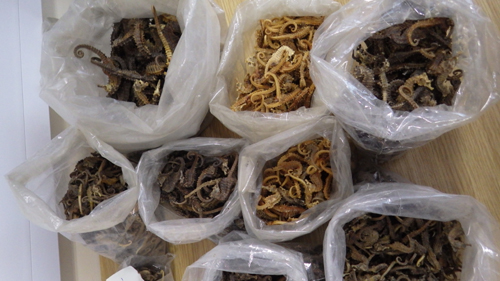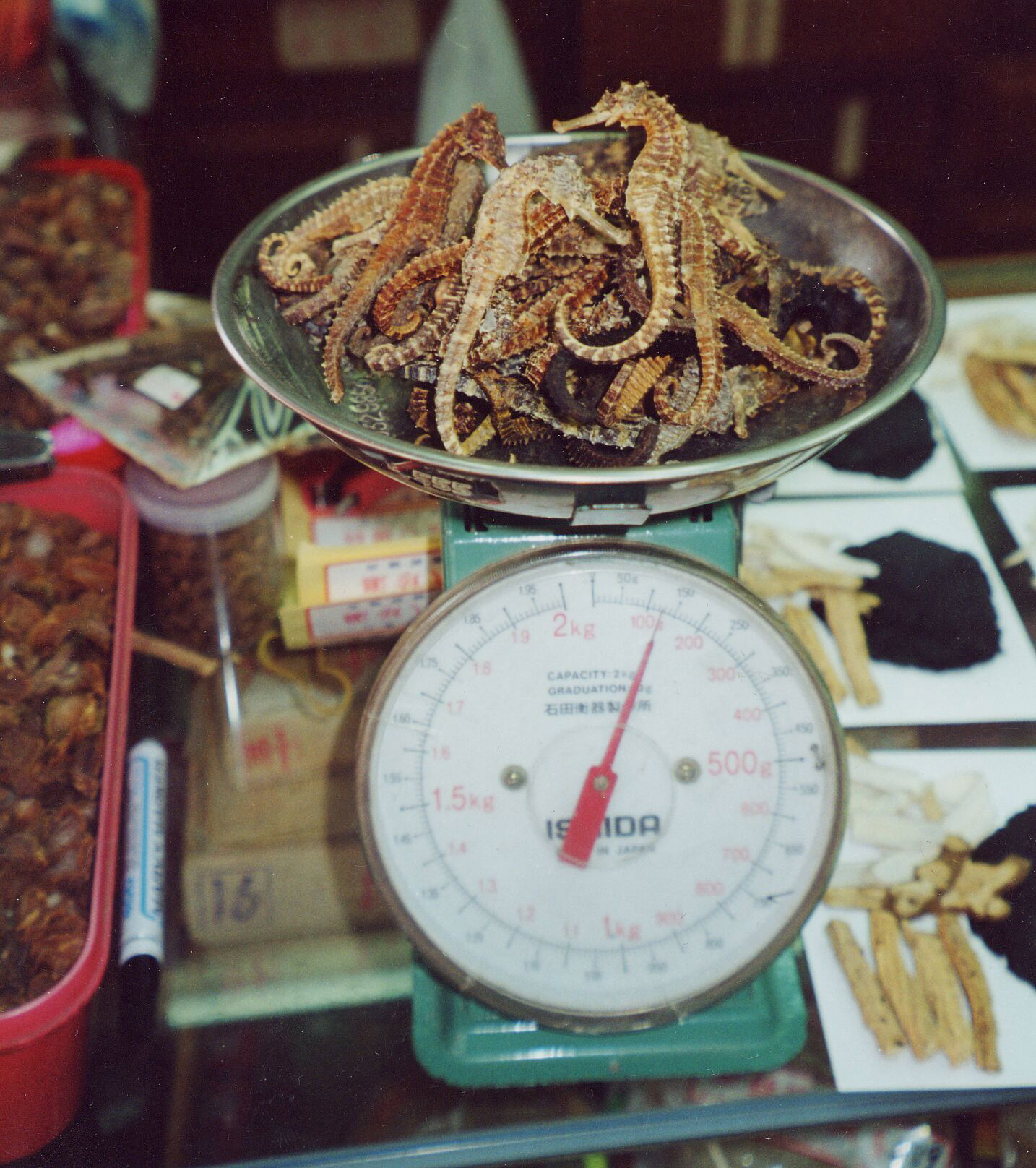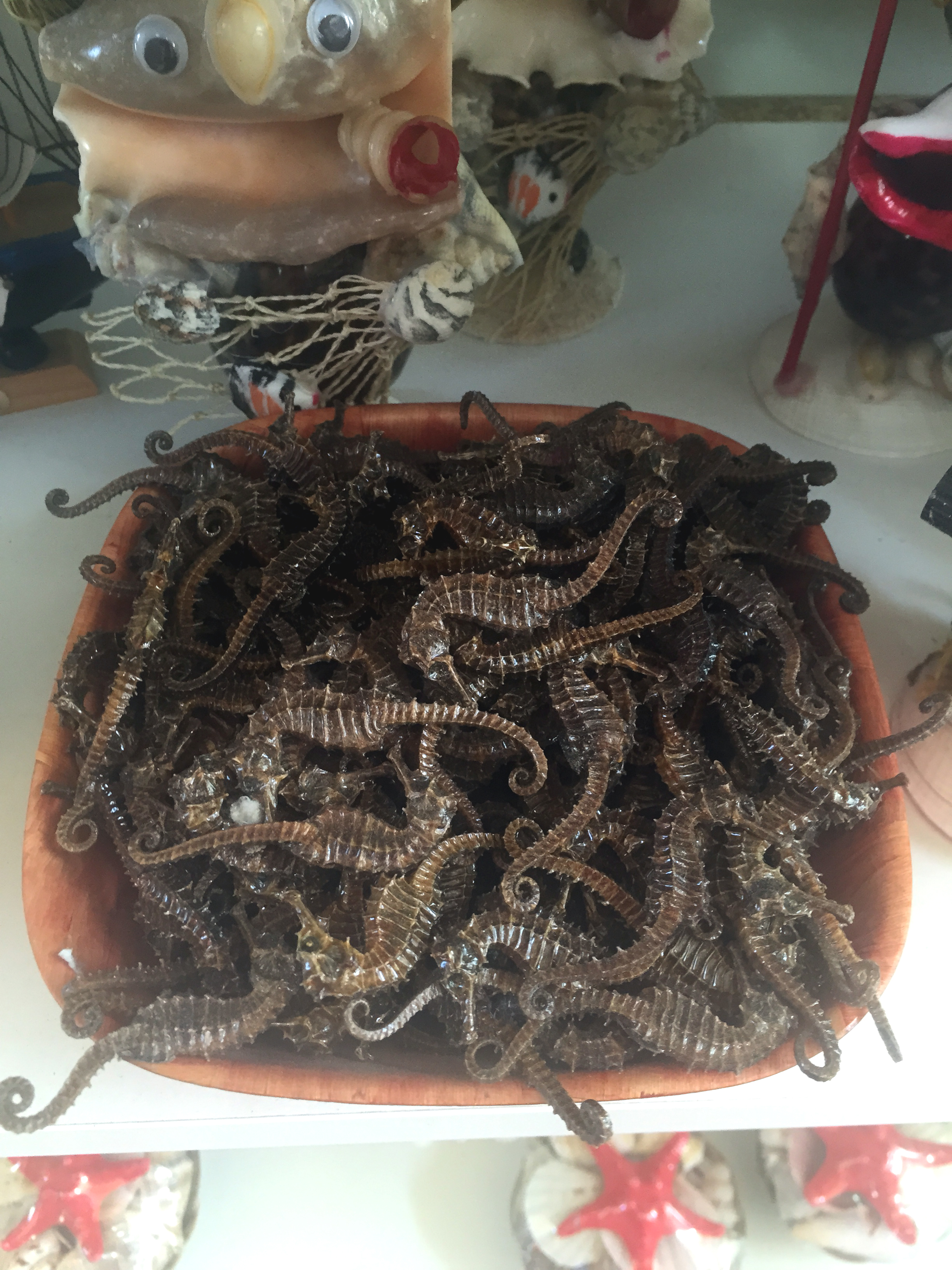 Postcode Local Trust
Thank you to the players of People's Postcode Lottery.
Our 'Stop the Curio Trade' campaign has been made possible thanks to a grant from Postcode Local Trust, a grant-giving charity funded entirely by players of People's Postcode Lottery.
They have kindly funded setting up this project, and will also make sure we can produce educational material to support our work.
We hope to produce leaflets, posters, a short video, a database and many others things, including an accreditation scheme for retailers.
Thanks to the funding we have managed to persuade many online platforms such as eBay, Preloved, Amazon, Alibaba, Sphock and very recently Etsy to stop allowing the sales of seahorses. We are working with many others to do the same.
Thank you Postcode Local Trust.
STOP THE CURIO TRADE CAMPAIGN FILM

Here at the Trust we have put together a film about the curio trade and how it affects seahorses.

This film has kindly been funded by the People's Postcode Trust and we would like to say a massive thank you to them for doing this.
Please click on the picture below to link to the film and please share it far and wide. We need this message to get out there.
To find out more about the work of the People's Postcode Trust, please click on their logo.