Welcome to The Seahorse Trust
We hope you will be inspired by our site to learn more about and support us in conserving seahorses for generations to come.
We are a small but dedicated and world leading charity for seahorses and the natural world that reaches right around the globe.
We can only achieve what we do by working with others and by working in partnership with nature. By taking this collective approach we can all make a difference. Please take a look through our website and enjoy the work we do, only made possible by our amazing team of volunteers, who are the true backbone of our charity.
We hope you will find the site informative and understand more about the problems facing our natural world, especially seahorses; whether that is the loss of seagrass at Studland or the horrendous curio trade.
Thank you for reading our site and if we can help please do not hesitate to get in touch.
STUDLAND BAY BECOMES A MARINE CONSERVATION ZONE
After 10 years of collecting data and submitting this to the authorities, Studland Bay has finally become a Marine Conservation Zone which will secure this unique site for the future of the Seahorses and Seagrass and others species on this site.
The Seahorse Trust with its partners and friends from around the world has successfully acheived MCZ status for this site and many others and it is all down to you. Through the hard work of our volunteers, supporters and partners we have done it and we look forward to making this site secure for Spiny Seahorses (Hippocampus guttulatus) and other species for the future.
CLICK ON THE MAP TO THE LEFT TO LEARN MORE ABOUT WHAT THIS MEANS
Trust Founder challenges the Secretary of State over drilling in Poole Bay
COURT allows claim for JUDICIAL REVIEW OF OFFSHORE DRILLING LICENSING
Founder of the Seahorse Trust wins his judicial review
The challenge came after the authorisation of oil drilling in Poole Bay
The Secretary of State for Business, Energy and Industrial Strategy (Andrea Leadsom MP) has dropped her defence of the judicial review

The Secretary of State has agreed that the Offshore Petroleum Production and Pipe-lines (Assessment of Environmental Effects) Regulations 1999 ("the 1999 Regulations")  are not fit for purpose and need to be amended
The Secretary of State has agreed to carry out a detailed review of the 1999 Regulations and has committed to amending them following the review and a public consultation on the options for change. 
 The Secretary of State has further agreed to change  the  working  practices  of  the  Offshore  Petroleum  Regulator  for Environment and Decommissioning ("OPRED")
Neil Garrick-Maidment, Founder and Executive Director of the Seahorse Trust, supported by the Seahorse Trust, sought a declaration from the Court that the 1999 Regulations are not fit for purpose and need to be amended.  The Secretary of State has now agreed to carry out a detailed review of the 1999 Regulations and to amend them following the review and a public consultation on the options for change.
The challenge came after the Secretary of State agreed to the application by Corallian Energy Limited to drill for oil in Poole Bay, Dorset in breach of the European Union's Environmental Impact Assessment (EIA) Directive.  Garrick-Maidment argued that the drilling application was not subject to a lawful transparent environment impact assessment process and the Secretary of State now agrees.
The Seahorse Trust and Garrick-Maidment want to ensure that any future drilling in UK waters will be subject to proper consultation and scrutiny so that sensitive species, such as seahorses, are properly protected.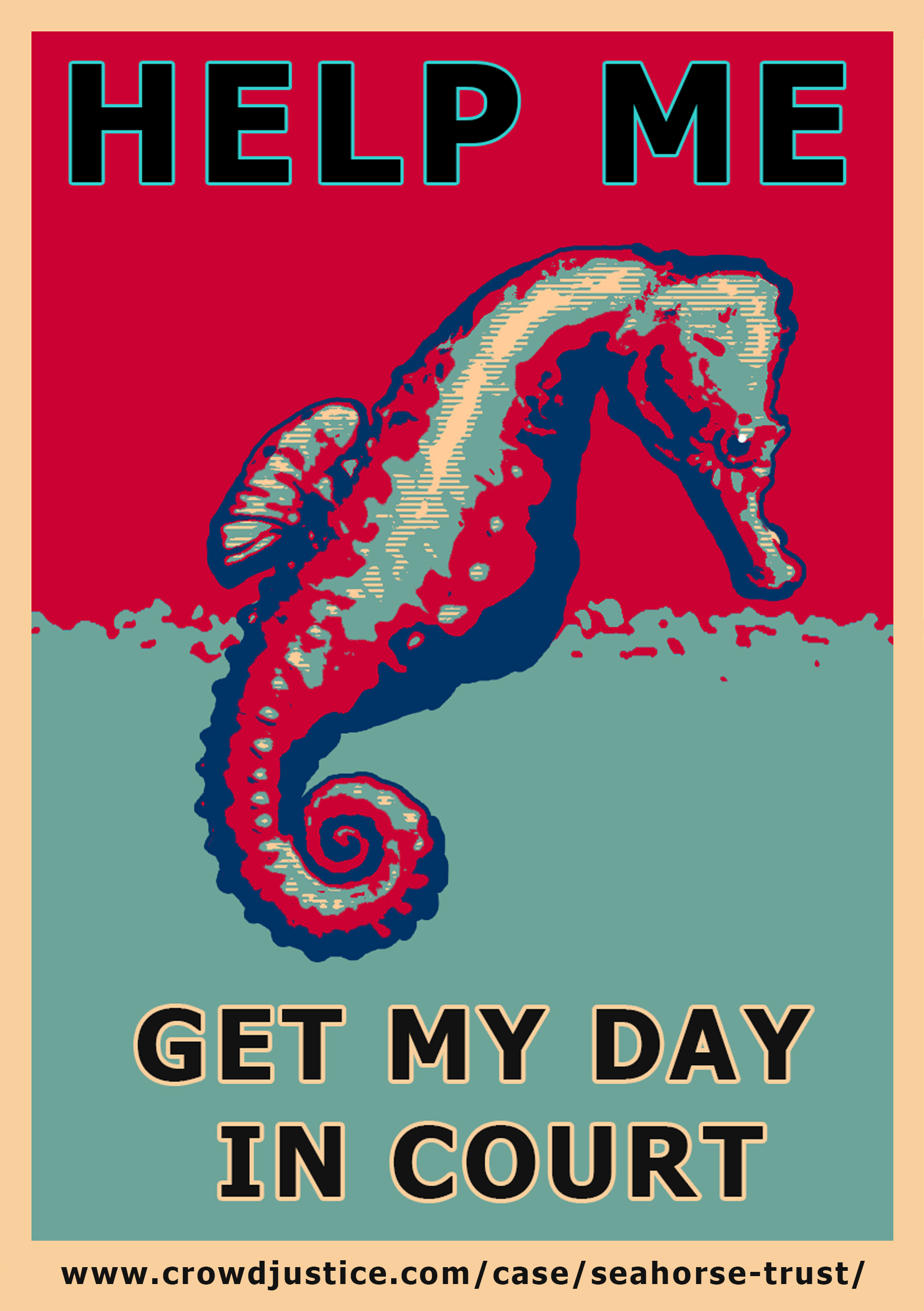 Protest card copyright of Steve Harper steveharper_uk@yahoo.com
Susan Ring, partner at Harrison Grant Solicitors, said that the environmental impact assessment of offshore oil projects was "still in the dark ages" and needed "urgent amendment to bring them into the 21st century".
Commenting on the Court's decision to allow the judicial review, and the Secretary of State's agreement that the 1999 Regulations need amending, Garrick-Maidment said: "I am delighted. The law at the moment is not fit for purpose and must now be reviewes. Although this drilling has already gone ahead, it is crucial that this cannot happen again. Ordinary people must be given the chance to challenge the granting of licences to the oil industry and that the Environmental Impact Assessments must be done correctly. Thank you everyone who supported us, fund raised and who care."
Seahorse Survey Course
TAKE PART IN THIS INNOVATIVE COURSE AND LEARN MORE
The Seahorse Trust works with partners all over the world setting up and helping with seahorse surveys. We have partners, a Seahorse Alliance, in Malta, Spain, France, Italy, Bermuda, Japan, Peru, Brazil, Philippines, Australia and many other countries.
The Seahorse Alliance, working in partnership means that we are able to achieve so much by collecting data and working together all over the world. This enables us to put together our findings and inform the relevant authorities on how to conserve, preserve and understand seahorse species.
In working with others around the world we have come to realise that the techniques of surveying vary quite a lot and so we have put together and designed an international standard method for studying seahorses in the wild.
This course will be taught over 2 days (or 8 sessions) and is classroom based. At the end of it you will be able to understand seahorses and conduct seahorse surveys to provide much needed information on these amazing species.
The design and putting together of this course was kindly funded by the Postcode Lottery Trust and we would like to say a massive thanks to them and the players of the Peoples Postcode lottery for supporting our work.
Have a look on our divers page for the latest dates and venues for the courses, click on the button below.
CLICK HERE
Seahorse Ecology Course
FIND OUT WHAT MAKES A SEAHORSE TICK
Have you every wondered why a seahorse is like it is?, what makes these 'Little horses of the sea' so unique and so well adapted to their watery world.
Are they a fish, male or female, a monkey or a chameleon; seahorses show so many traits from so many species it is hard to decide exactly what they are but in this unique course you will find out the answers to these questions and more.
This one day or online course run by The Seahorse Trust will explain the answers to these questions and explore the unique world of this mysterious animal.
Please have a look at the link to the left (just click on it to go to the site) and see more details of the course and please pass this link around to all your friends on social media and try to get them to explore the world of seahorses.
World Seahorse Survey
We need to know about seahorses from all over the world
Understanding seahorses from anywhere in the world is crucial to their protection and conservation, the more we know, the more we can do to protect them.
No matter where you are in the world we need to know about your seahorse sightings and so if you can e-mail us on WORLD SEAHORSE SURVEY with any information and/or pictures that would be great.
Alternatively if you could fill out our online survey form (link below) and e-mail us any pictures, we can also add that to the worldwide databases we run.
We have been successful in our appeal to raise funds to design an interactive seahorse survey database and map to allow seahorse lovers to see roughly where seahorses and what species are found around the world.
The Sealife centres have kindly funded the project as part of a large scale worldwide education/conservation project we are all involved in.
The database behind this map will be open at various levels for those that need the information, so that it helps in the conservation and future of seahorses from around the world.
Scuba Zoo Film on Seahorses
GALLOPING EXTINCTION: LAST STAND OF THE SEAHORSES
Have a look at this thought provoking film by Scubazoo, it clearly shows how amazing seahorses are and how they are under threat of extinction in Borneo.
Please forward this link to as many social media sites as you can, to show the plight of the seahorse before it is too late. We can still do something about them if we all act now.
The film can be found at Galloping Extinction: Last stand of the Seahorse and what a brilliant film it is as well.
We would also like to thank Save our Seahorses in Dublin and Gillian Marsh TV in Ireland for their kindness in helping out on the film.
British Seahorse Booklet
BUY A COPY OF OUR BRILLIANT NEW INFORMATIVE BOOKLET
We have just produced a booklet on British Seahorses, so you can learn more about these amazing animals, these 'Little horses of the sea'. It is full of facts and information about what makes these incredible fish be able to survive in our waters, how they breed, their beautiful daily dance and lots of other information about their unique behaviour and life in our waters.
It is an A5 booklet in full colour and shows how enigmatic and incredible British Seahorses truly are.
To buy a copy please e-mail BRITSH SEAHORSES and order a copy and you can pay through our donate button on this page or by sending a cheque for £4.99 (Including postage and packaging) payable to The Seahorse Trust to the address on our support us page.
100% of the profits goes in aid of The Seahorse Trust which is a registered charity (Number 1086027)
Seahorse Post Cards
A SPECIAL THANKS TO THE PHOTOGRAPHERS WHO KINDLY DONATED THIER IMAGES IN AID OF THE SEAHORSE TRUST
This stunning set of images featuring seahorses and seadragons has been made into a series of 6 postcards bound together.
They are for sale for £7.65 (incl. P&P UK only) withn 100% of the profits going to the work of The Seahorse Trust.
The images have been kindly donated by the photographers for the use of the trust to aid its work and we would like to say a massive thank you to them all.
If you want to buy a set or two then please email us at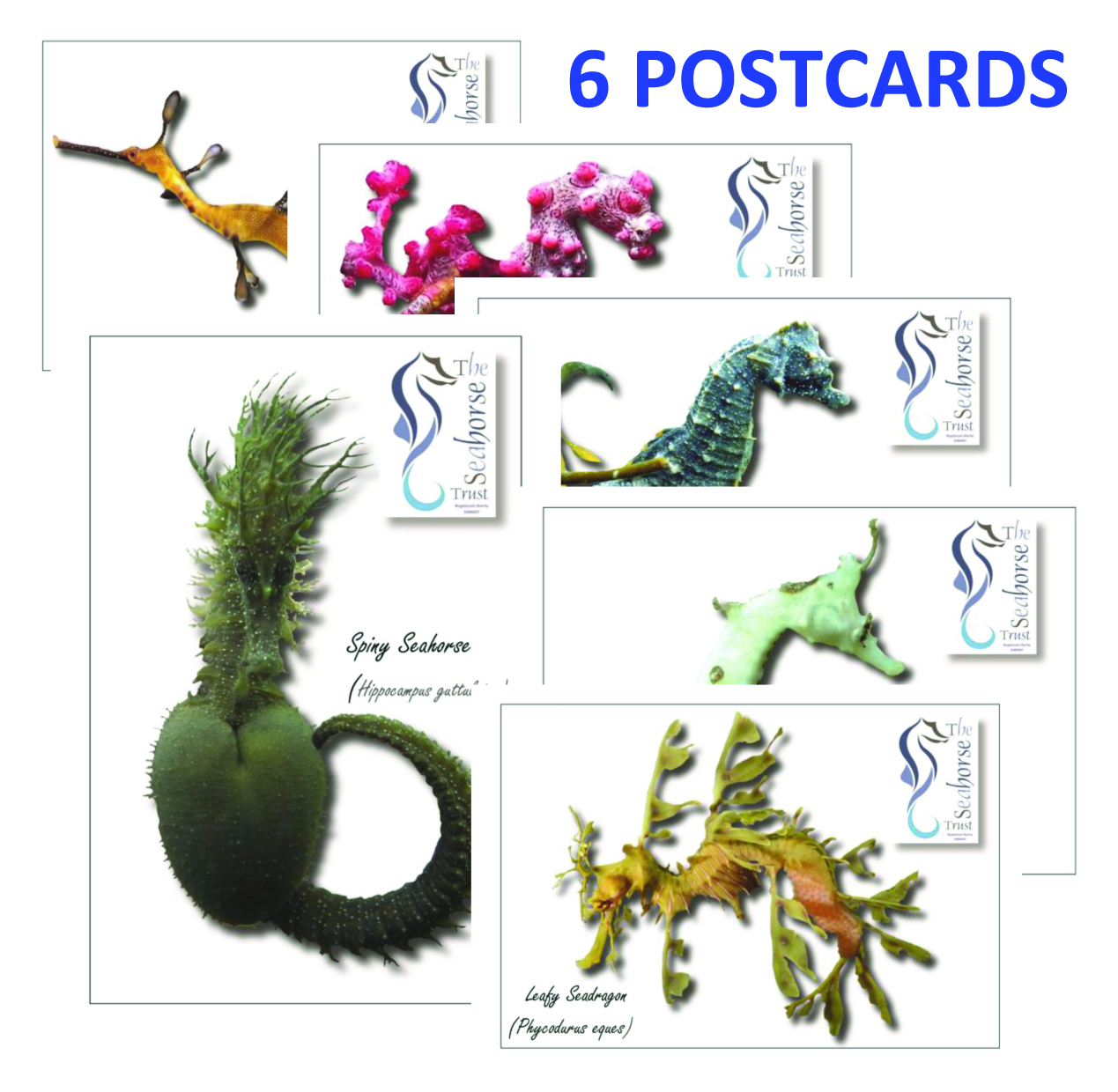 Privacy Statement
HERE AT THE SEAHORSE TRUST WE RESPECT YOUR PRIVACY. PLEASE READ OUR PRIVACY STATEMENT BY CLICKING ON THE BUTTON BELOW
PRIVACY STATEMENT