Welcome to The Seahorse Trust
We hope you will be inspired by our site to learn more about and support us in conserving seahorses for generations to come. We are a small but dedicated and world leading charity for seahorses and the natural world that reaches right around the globe. We can only achieve what we do by working with others and by working in partnership with nature. By taking this collective approach we can all make a difference. Please take a look through our website and enjoy the work we do, only made possible by our amazing team of volunteers, who are the true backbone of our charity. We hope you will find the site informative and understand more about the problems facing our natural world, especially seahorses; whether that is the loss of seagrass at Studland or the horrendous curio trade.
Thank you for reading our site and if we can help please do not hesitate to get in touch.
Seahorse Survey Course
TAKE PART IN THIS INNOVATIVE COURSE AND LEARN MORE
The Seahorse Trust works with partners all over the world setting up and helping with seahorse surveys. We have partners, a Seahorse Alliance, in Malta, Spain, France, Italy, Bermuda, Japan, Peru, Brazil, Philippines, Australia and many other countries.
The Seahorse Alliance, working in partnership means that we are able to achieve so much by collecting data and working together all over the world. This enables us to put together our findings and inform the relevant authorities on how to conserve, preserve and understand seahorse species.
In working with others around the world we have come to realise that the techniques of surveying vary quite a lot and so we have put together and designed an international standard method for studying seahorses in the wild.
This course will be taught over 2 days (or 8 sessions) and is class room based. At the end of it the divers will be able to understand seahorses and conduct seahorse surveys and provide much needed information on these amazing species.
The design and putting together of this course was kindly funded by the Postcode Lottery Trust and we would like to say a massive thanks to them and the players of the Peoples Postcode lottery for supporting our work.
National Seahorse Centre
SHOW YOUR SUPPORT AND DONATE ON OUR GO FUND ME PAGE
We are planning on building The National Seahorse Centre and we need your help, please. The centre will be a focus for our work and will become the headquarters of The Seahorse Trust. It will allow us to study seahorses, focus students and organisations and researchers into one place through our alliances and it will be a place for the public to come and understand one of nature's most amazing animals.
To do this though we need to undertake a feasibility study to look at potential funding, partners to work with and where to situate it. We estimate the study will cost about £5,000 to and so we have launched a GoFundMe campaign to raise this.
Please have a look at the picture link below (just click on it to go to the site) and see what we hope to achieve and please pass this link around to all your friends on social media and try to get them to help the seahorses. Thank you
Wildflower Favours
TAKE A LOOK AT THESE CHARITABLE WEDDING FAVOURS
Thinking of getting married or know someone that is and want to help seahorses, bees and nature then Wildflower Favours can help you. They have kindly nominated us as one of the charities they want to support in their wedding business. The wildflower seed packets are recycled and eco-friendly and they contain British flowers from British grown seeds.
Each packet costs £1.20 and they are kindly making a 20p donation from every packet sold which will go directly into the work of The Seahorse Trust. As well as these amazing seed packets which are a brilliant way to celebrate the start of a union they also sell other wedding-based products.
Click on the link below and follow the link to our seed packets and think of bees and seahorses when you're tying the knot. What better way to celebrate the start of your marriage than with an animal that knows a thing or two about pairing up for a long time.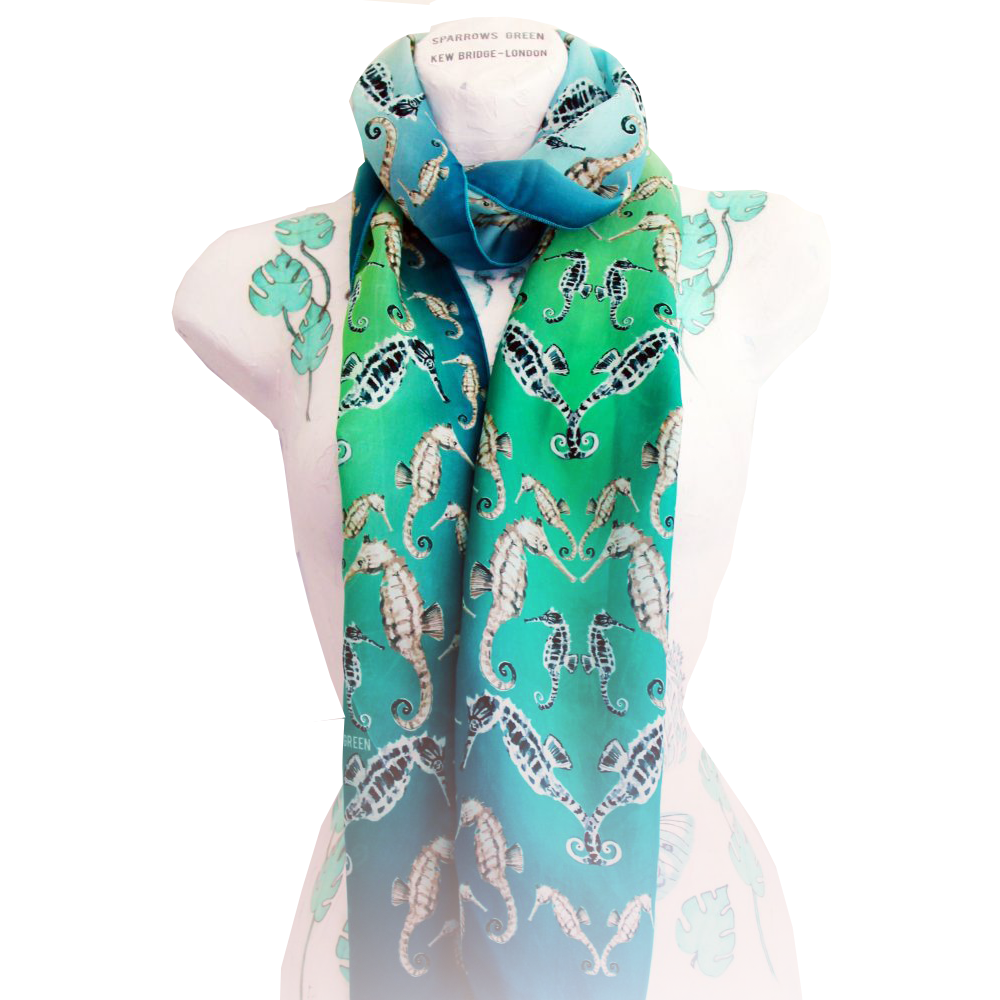 Treat Yourself
WHY NOT SHOW YOUR SUPPORT BY PURCHASING THIS BEAUTIFUL SEAHORSE SCARF
Sparrow Green Studio (www.sparrowgreenstudio.com) has launched a new British hand drawn silk scarf in aid of The Seahorse Trust. The new long scarf (180cm by 190cm) features a kaleidoscope of seahorses, namely the British Spiny Seahorse, against a background of blue with green tinges to resemble the sea.
Designer Kate Palmer, who runs Sparrow Green Studio, says "The scarf was designed using my pencil drawings and has been digitally printed on silk habutai. By designing this scarf to celebrate The Seahorse Trust, I want to highlight the charity's important work in conserving and preserving seahorses, which are under threat."
Neil Garrick-Maidment, Executive Director, The Seahorse Trust, says "We're delighted with the scarf Kate has designed for our charity. It will help raise awareness about the plight of seahorses."
The scarf costs £38, 15% of which will go to the charity, it is available from www.sparrowgreenstudio.com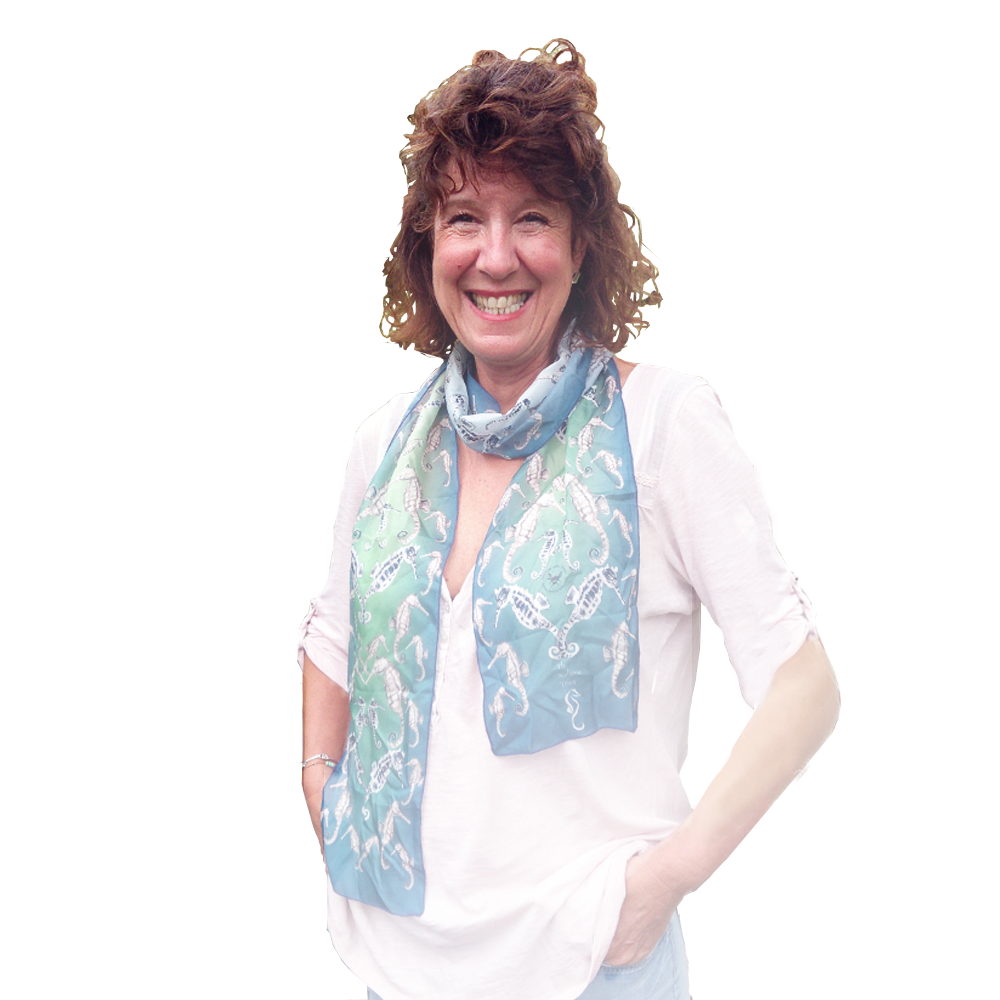 Sucba Zoo Film on Seahorses
GALLOPING EXTINCTION: LAST STAND OF THE SEAHORSES
Have a look at this thought provoking film by Scubazoo, it clearly shows how amazing seahorses are and how they are under threat of extinction in Borneo.
Please forward this link to as many social media sites as you can, to show the plight of the seahorses before it is too late. We can still do something about.
The film can be found at Galloping Extinction: Last stand of the Seahorse and what a brilliant film it is as well.
We would also like to thank Save our Seahorses in Dublin and Gillian Marsh TV in Ireland for their kindness in helping out on the film.
Seahorse Sculptures
AMAZING SCULPTURES BY NICOLAS PAIN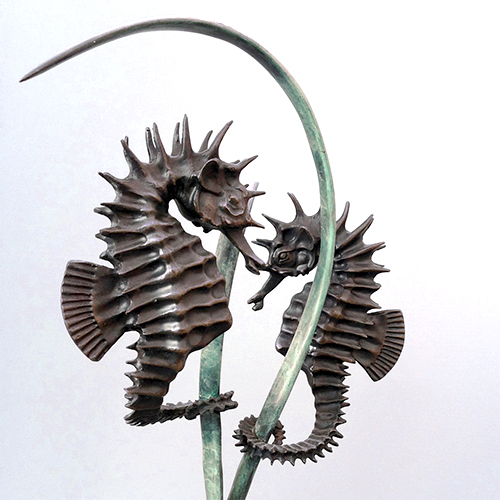 Wildlife Artist and SCUBA diver Nicolas Pain has just released two new sculptures. Each depicts Spiny Seahorses. One features a single Seahorse holding on tightly to a strand of seagrass in a strong current while the second shows two Seahorses floating gently in calmer waters. Both sculptures accurately portray exquisitely detailed seahorses in their natural habitat. Nicolas' work is inspired by many years of diving mainly in the UK. Each sculpture is a foundry cast bronze in a strictly limited edition of 18 that is signed by the artist. These are offered here in conjunction with The Seahorse Trust and the artist will donate 15% of the sale price to the trust. The dimensions of the single Seahorse are D17cm X W30cm XH43cm and the two seahorses together are D25cm X W14cm X H62cm. Both are supplied in hand made wooden presentation boxes. The single Seahorse is priced at £1850 and the double at £2400. This price includes shipping on the UK mainland. To order your sculpture or for more details simply e-mail the artist, quoting The Seahorse Trust to nicolas.pain@cloud.com or visit nicolaspain.co.uk
VISIT NOW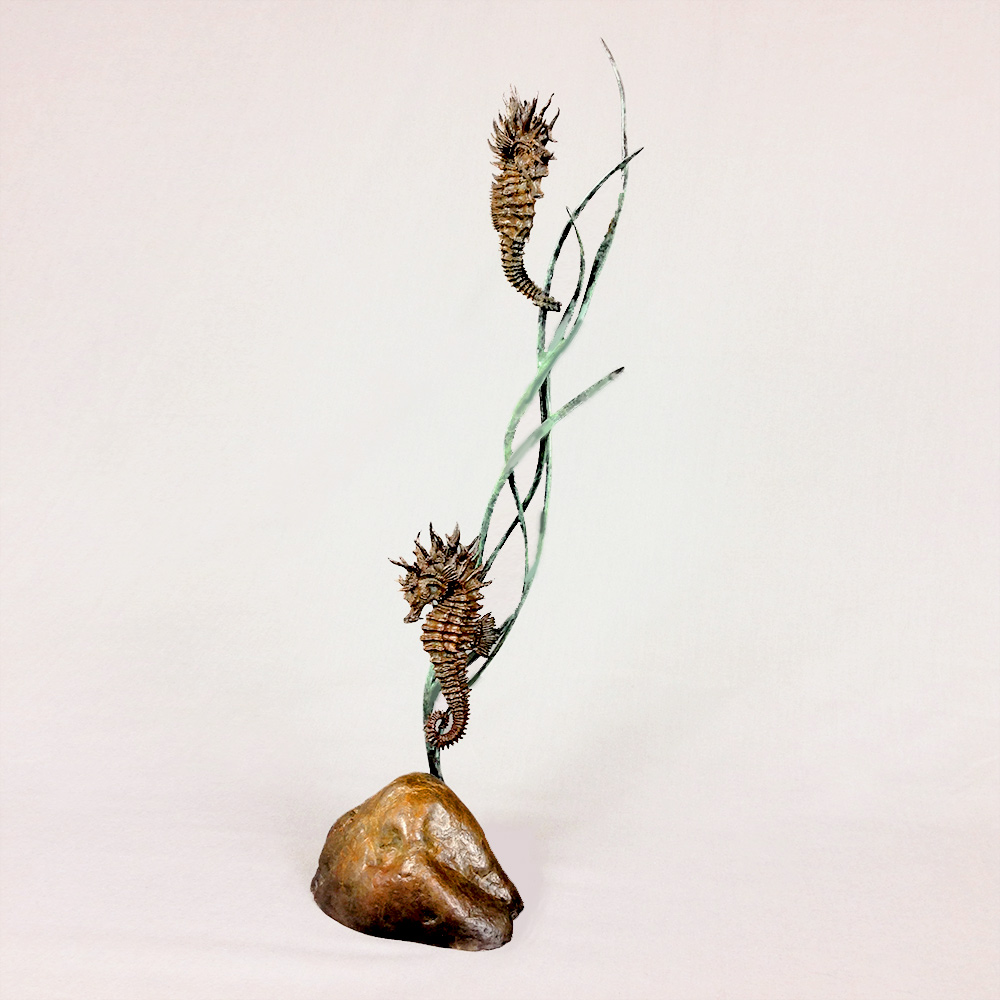 British Seahorse Booklet
BUY A COPY OF OUR BRILLIANT NEW INFORMATIVE BOOKLET
We have just produced a booklet on British Seahorses, so you can learn more about these amazing animals, these 'Little horses of the sea'. It is full of facts and information about what makes these incredible fish be able to survive in our waters, how they breed, their beautiful daily dance and lots of other information about their unique behaviour and life in our waters.
It is an A5 booklet in full colour and shows how enigmatic and incredible British Seahorses truly are.
To buy a copy please e-mail BRITSH SEAHORSES and order a copy and you can pay through our donate button on this page or by sending a cheque for £4.99 (Including postage and packaging) payable to The Seahorse Trust to the address on our support us page.
100% of the profits goes in aid of The Seahorse Trust which is a registered charity (Number 1086027)
Beauty Kitchen
A SPECIAL THANKS TO OUR FRIENDS AT BEAUTY KITCHEN
Our friends at Beauty Kitchen have kindly offered to sponsor some of our work at The Seahorse Trust by donating 1% of net sales of a new range of beauty products made with seahorse plankton, which is a marine microalgae full of Omega 3 and 6.
This range of products is being sold through Holland and Barrett and we hope in the long term to work with Beauty Kitchen and Holland and Barrett in developing a computer game featuring Stan the Seahorse so we can help educate children about the problems facing seahorses worldwide in the wild.
So get beautiful and help seahorses at the same time by buying this unique range of products. Please click on their logo below to find out more and a massive thank you to Beauty Kitchen for their support.
If your organisation wants to support seahorses and the natural world then please get in touch through the contact e-mail. Many thanks.