Beauty Kitchen
A SPECIAL THANKS TO OUR FRIENDS AT BEAUTY KITCHEN
Our friends at Beauty Kitchen have kindly offered to sponsor some of our work at The Seahorse Trust by donating 1% of net sales of a new range of beauty products made with seahorse plankton, which is a marine microalgae full of Omega 3 and 6.
This range of products is being sold through Holland and Barrett and we hope in the long term to work with Beauty Kitchen and Holland and Barrett in developing a computer game featuring Stan the Seahorse so we can help educate children about the problems facing seahorses worldwide in the wild.
So get beautiful and help seahorses at the same time by buying this unique range of products. Please click on their logo below to find out more and a massive thank you to Beauty Kitchen for their support.
If your organisation wants to support seahorses and the natural world then please get in touch through the contact e-mail. Many thanks.
Wildflower Favours
TAKE A LOOK AT THESE CHARITABLE WEDDING FAVOURS
Thinking of getting married or know someone that is and want to help seahorses, bees and nature then Wildflower Favours can help you. They have kindly nominated us as one of the charities they want to support in their wedding business.
The wildflower seed packets are recycled and eco-friendly and they contain British flowers from British grown seeds.
Each packet costs £1.20 and they are kindly making a 20p donation from every packet sold which will go directly into the work of The Seahorse Trust. As well as these amazing seed packets which are a brilliant way to celebrate the start of a union they are also developing other wedding-based products.
Click on the link to the right and follow the link to our seed packets and think of bees and seahorses when you're tying the knot. What better way to celebrate the start of your marriage than with an animal that knows a thing or two about pairing up for a long time.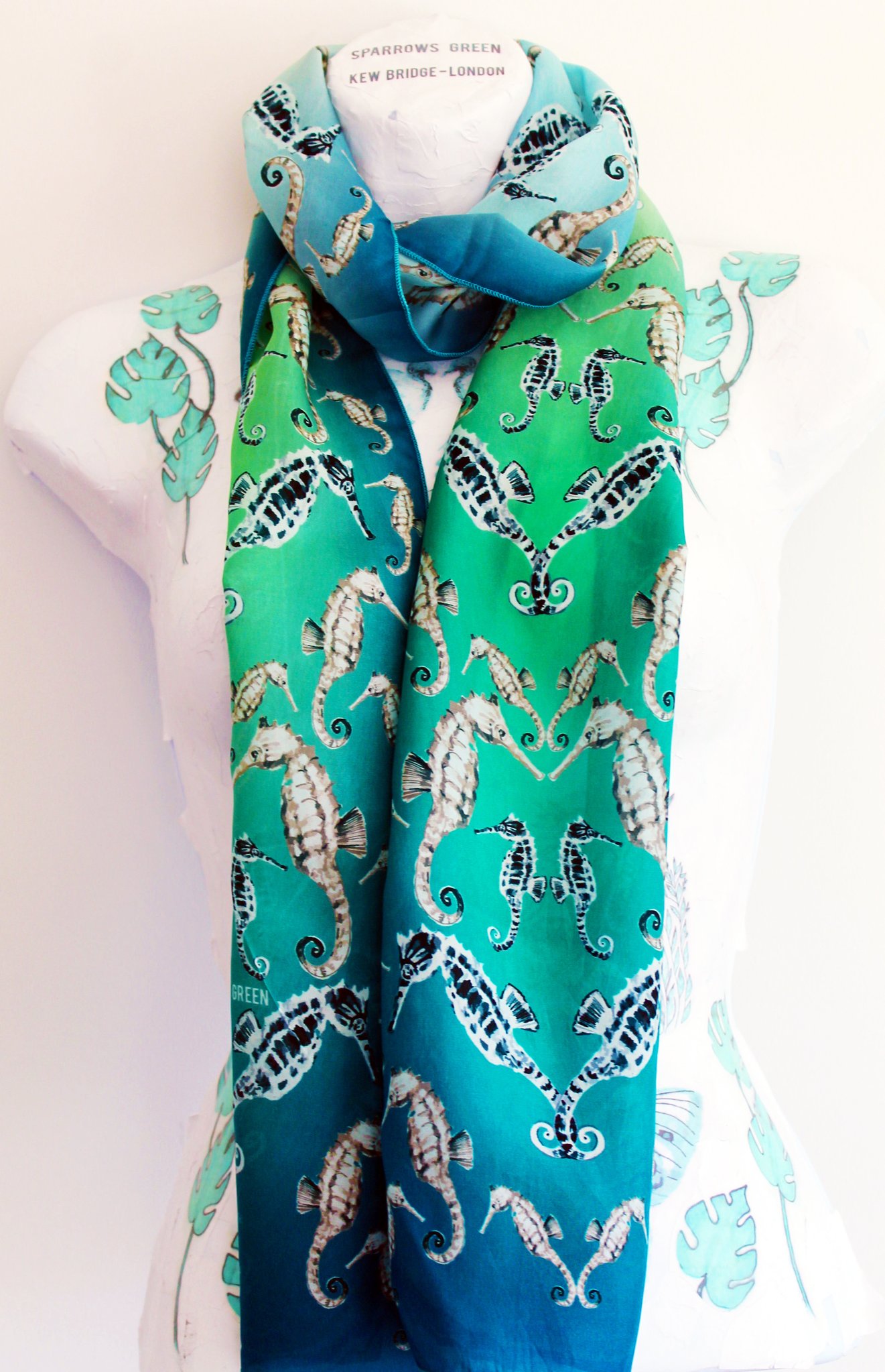 Treat Yourself
WHY NOT SHOW YOUR SUPPORT BY PURCHASING THIS BEAUTIFUL SEAHORSE SCARF
Sparrow Green Studio (www.sparrowgreenstudio.com) has launched a new British hand drawn silk scarf in aid of The Seahorse Trust. The new long scarf (180cm by 190cm) features a kaleidoscope of seahorses, namely the British Spiny Seahorse, against a background of blue with green tinges to resemble the sea.
Designer Kate Palmer, who runs Sparrow Green Studio, says "The scarf was designed using my pencil drawings and has been digitally printed on silk habutai. By designing this scarf to celebrate The Seahorse Trust, I want to highlight the charity's important work in conserving and preserving seahorses, which are under threat."
Neil Garrick-Maidment, Executive Director, The Seahorse Trust, says "We're delighted with the scarf Kate has designed for our charity. It will help raise awareness about the plight of seahorses."
The scarf costs £38, 15% of which will go to the charity, it is available from www.sparrowgreenstudio.com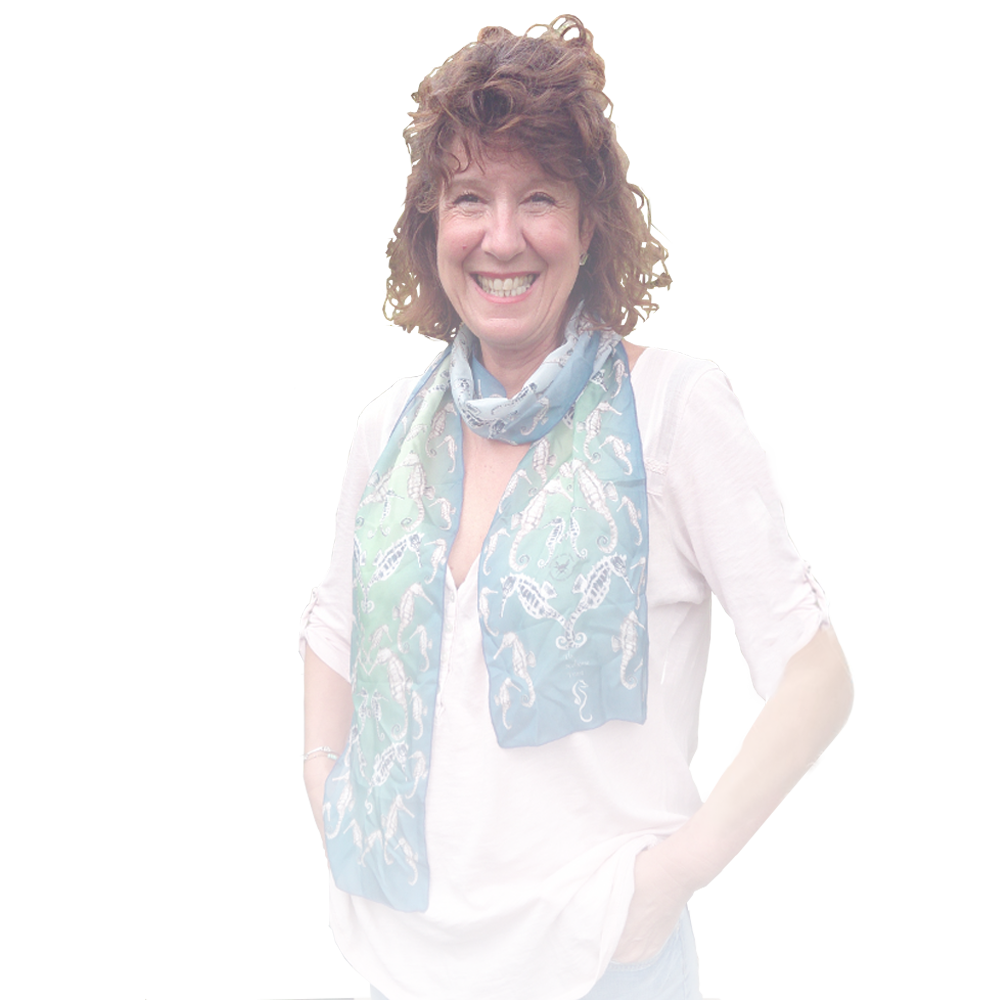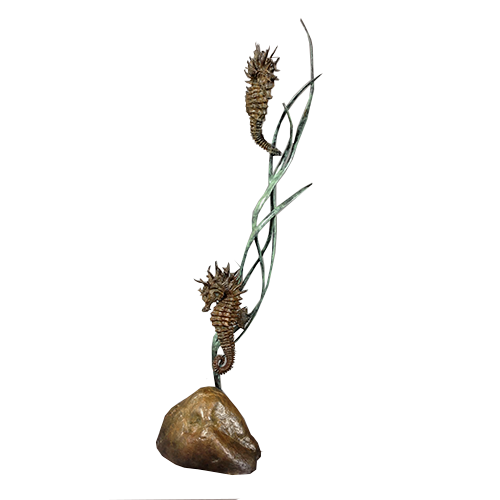 Seahorse Sculptures
AMAZING SCULPTURES BY NICOLAS PAIN
Wildlife Artist and SCUBA diver Nicolas Pain has just released two new sculptures. Each depicts Spiny Seahorses. One features a single Seahorse holding on tightly to a strand of seagrass in a strong current while the second shows two Seahorses floating gently in calmer waters. Both sculptures accurately portray exquisitely detailed seahorses in their natural habitat. Nicolas' work is inspired by many years of diving mainly in the UK. Each sculpture is a foundry cast bronze in a strictly limited edition of 18 that is signed by the artist. These are offered here in conjunction with The Seahorse Trust and the artist will donate 15% of the sale price to the trust. The dimensions of the single Seahorse are D17cm X W30cm XH43cm and the two seahorses together are D25cm X W14cm X H62cm. Both are supplied in hand made wooden presentation boxes. The single Seahorse is priced at £1850 and the double at £2400. This price includes shipping on the UK mainland. To order your sculpture or for more details simply e-mail the artist, quoting The Seahorse Trust to nicolas.pain@cloud.com or visit nicolaspain.co.uk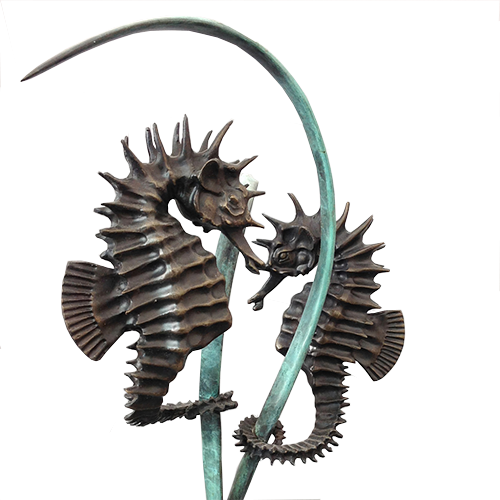 Seahorse paintings
Life like seahorse paintings by Cliff Towler

10% Goes to the Seahorse Trust
A special set of three beautiful seahorse giclee prints on canvas. Perfect for your home or as a gift for someone special.
This is a very special one-off edition of 3 striking seahorse giclee fine art prints, especially for members of the Seahorse Trust. Each one of the prints is on a 16 x 16 inch deep box canvas, ready to wall hang.
Please click this link to buy online and let me know that you are a member of the Seahorse Trust when you order to activate the donation.
goo.gl/YshhQH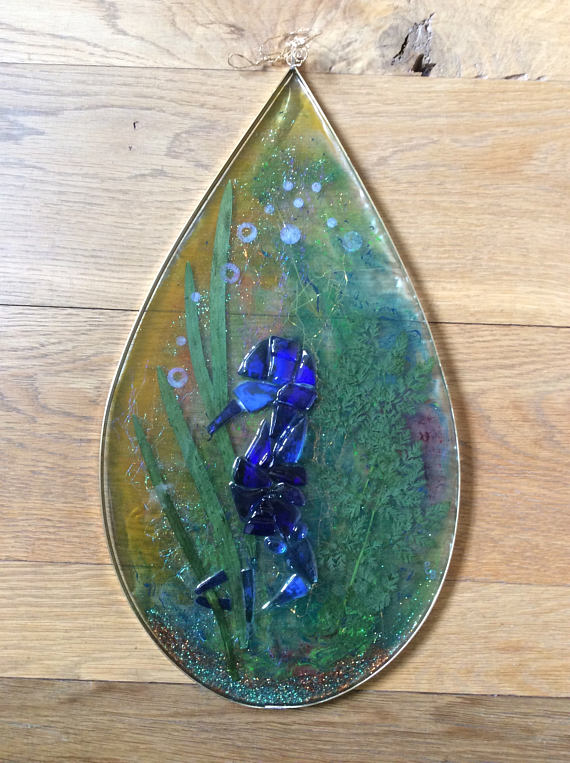 Seahorse art
Unique one off Seahorse art
Since taking early retirement 18 months ago I have been able to indulge  my love of art and crafts.  I am still exploring many forms and mediums,  with no formal training I enjoy regularly attendance to local classes.
My work is varied from a  simple style of Pointillism which I have developed preferring to use sepia and black pens,  Tuscany landscapes in acrylic to my most recent work using slate, beach finds and  metallic paints set in resin.
My inspiration comes from my love of the countryside and many years of diving with my first sighting of a Seahorse while diving on the south coast of England.
Following my passion for seahorses I now donate 10% from any sales of products featuring a seahorse to the Seahorse Trust.
Purchases can be made by contacting me
Facebook: PattisArtsandCrafts
or visit my shop on ETSY
Message in a Bottle
A great range of plastic-less, reusable products for everyday living.
Better for you. Better for our Planet
How do you save the planet, save seahorses and stop the oceans filling with plastic, well buy non-plsatic items from Message in a Bottle is the answer.
Sarah and the team at Message in a Bottle have kindly offered to donation 10% from sales of water bottles and coffe cups to the work of The Seahorse Trust.
Sarah says, "although we are just a small on-line business we want to do what we can to support the Seahorse Trust. If you need a water bottle or coffee cup then come and visit our on line shop and we will donate 10% of your order to the Trust. (please include code: SEAHORSE in the checkout comments box)"
Like so many of our kind supporters this is such a generous offer and please support them and us and help to preserve our oceans at the same time.
To find out more about their work and ongoing offers don't forget to sign up to their newsletter which also has tips on living with less plastic.
Marine Conservation Society
Adopt a seahorse in partnership with The Seahorse Trust
The Marine Conservation Society have come together in partnership with The Seahorse Trust to set up a joint Seahorse Adoption scheme.
By jointly adopting one of the MCS seahorses you are helping both organisations to save seahorses and their habitat for generations to come.
Click on the image to the right to adopt a seahorse jointly with MCS.
Click on the logo to the left to go to the MCS website.
Live Algae UK
Premium marine algae form the UK
Live algae UK make donations to the work of The Seahorse Trust from the sale of their UK grown sustainable marine algae.
These algae are sustainable and do not affect habitats in the wild.
Click on the logo or picture to the right to go directky to their website
Wildlfe World
Premium wildlife products for home and garden
Wildlife World supply high quality bespoke wildlife products made with sustainable materials made here in the UK by skilled craftsmen.
Being the leading wildlife product designers and manufacturers in the country they have won countless awards for their products and designs.
They are suppliers to some of the leading wildlife organisations in the country and further afield and design thier products for the animals they are designed for and to be asectically pleasing.
Gifts from Dartmoor
Artisan products from the heart of Devon
Dartmoor in the heart of Devon has always inspired people to get out and enjoy nature and this same inspiration drives the majority of our artisan producers.
Dartmoor has a thriving community of artists, photographers, food and drink producers, jewellers and much more.
Gifts from Dartmoor has been set up to showcase the fantastic products and produce made by dedicated and passionate artisan producers from across Dartmoor.